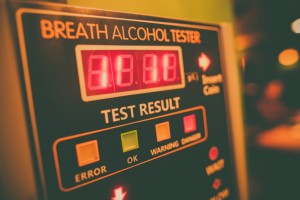 Tight end Austin Seferian-Jenkins lost his job last September with the Tampa Bay Buccaneers after he was arrested for driving while intoxicated. He was initially stopped for speeding, doing 75-80 mph in a 55 mph zone, weaving back and forth, and making an improper lane change. He was also charged for violating a Florida law that required that he have an ignition interlock device on his vehicle, after he plead guilty to a DUI charge he received while in college.
Because Seferian-Jenkins was arrested and convicted in the State of Florida, he was recently able to reach a plea deal in his case. He originally pled not guilty to the DUI/DWI charges. He amended his plea to no contest to a reckless driving charge. This option would not have been available if the same circumstances had occurred in New Jersey. In fact, a lot of things would have been different.
No Plea Deals and Mandatory Sentencing in New Jersey
Unlike Florida, the law in this State does not permit a defendant in a drunk driving case to plea bargain or enter into a plea arrangement with the police, the prosecutor, the court, or any other person on behalf of the state in order to receive a reduced sentence. In Florida, Seferian-Jenkins was permitted to enter a plea of no contest to reckless driving and, in exchange, he received 1 year of probation and 50 hours of community service. He also has to attend DUI school and pay a $500 fine.
If Seferian-Jenkins had been pulled over and convicted in the state of New Jersey, he would have received mandatory jail time from 2 to 90 days. This is because Seferian-Jenkins' 2016 DUI would have been considered a second offense, and a second DUI in New Jersey results in a mandatory jail sentence. As a second offense, his driver's license would also have been taken away for 2 years. The length of time for suspending the license is specifically required by law, although it can be even longer if the second offense occurred while the driver had a suspended license or if the driver was operating the vehicle in a school zone. Finally, because this was a second offense, Seferian-Jenkins would have been required to pay from $500-1000 in fines, plus mandatory court fees of $389 or more.
Moreover, none of these punishments include any potential additional sentence Seferian-Jenkins would have received because he was also in violation of his ignition interlock device restriction. In New Jersey, many drivers convicted of DUI, including some first time offenders, are required to install and maintain an ignition interlock device on their vehicle, and those drivers can receive heavy penalties for violating this law.
How an Attorney Can Help
The mandatory jail time, period of license suspension, and fines would have been even greater for Seferian-Jenkins if this had been a third or greater offense – and the punishments under the law cannot be negotiated in this state. Moreover, one of the worst consequences of getting convicted for driving under the influence of alcohol or drugs is the fact that it can take away a defendant's ability to drive and work or otherwise care for his family or loved ones.
For that reason, you should always consult an experienced DUI/DWI attorney if you or someone you know has been charged with driving under the influence of alcohol or drugs. An attorney will be able to explain your situation, help you prepare the best defense in your case, and may be able to have the charges against you dismissed completely. Moreover, there are still some ways that an attorney may be able to work around the plea bargaining restrictions and help improve the circumstances of your case, such as helping you take advantage of the step-down provision that can help reduce the penalties for a second or greater offense.
New Jersey Drunk Driving Attorney Edward M. Janzekovich Is Ready to Defend the Charges Against You
A DUI/DWI conviction means serious penalties that will affect you and your loved ones. For that reason, it is important to consult a drunk driving lawyer who knows how to help. If you or someone you know is charged with drunk driving or driving under the influence of any substance in New Jersey, an experienced DWI/DUI attorney will know the best way to help and can make all the difference. To speak with an experienced New Jersey DWI lawyer about your situation, call us at 732-257-1137 or contact us online today. We serve clients throughout the state of New Jersey.