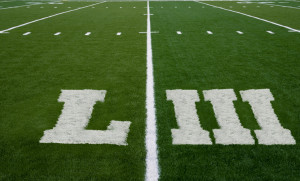 This coming Sunday, February 3, 2019, the Los Angeles Rams will be facing off against the New England Patriots in Super Bowl LIII at Mercedes-Benz Stadium in Atlanta, Georgia at 6:30 p.m. Eastern Standard Time.  Many people will start drinking early in the day.  By the time the game ends over 4 hours later, many people will have had at least a few drinks.  When it comes time to leave, remember: Don't Drink and Drive on Super Bowl Sunday.
When it comes to holidays normally associated with frequent drinking and driving arrests, most people think of New Year's Eve, Independence Day, or St. Paddy's Day.  In fact, Super Bowl Sunday also frequently has one of the highest rates of DUI arrests across the United States for drunk driving, intoxicated driving, and impaired operating of a motor vehicle.  Here at the Edward M. Janzekovich Law Blog, we always like to remind our readers to take simple precautions in order to avoid becoming another statistic.
The Numbers: Super Bowl And DUI
A 9-year-long study conducted by the Automobile Club of Southern California found that drunken driving-related crashes resulting in injuries were 41% higher on Super Bowl Sunday than on other Sundays in January or February. New Year's Eve was the only night that was worse, with a 44% increase. Christmas was ranked the third most dangerous major holiday.
According to the National Highway Traffic Safety Administration (NHTSA), over one third of all U.S. traffic deaths during the 2016 Super Bowl involved drunk drivers
The legal limit for blood alcohol content in the United States is .08% BAC (or .05% in Utah). According to BACtrack, a company specializing in smartphone-enabled alcohol breath tests, in 2014, its users recorded an average BAC of .091% on Super Bowl Sunday – high enough to convict the average user of driving while intoxicated and just shy of the average .094% associated with New Year's Eve.
Data from Alcohol Monitoring Systems (AMS) – which analyzes the drinking behavior of 530,000 repeat DUI offenders – found that drinking violations by repeat drunk drivers increased an average of 22% nationwide on Super Bowl Sunday, compared to the average Sunday.
Residents in Los Angeles and New England may have even more reason to be worried – statistically, residents in areas associated with one of the teams playing in the Super Bowl experience an even bigger spike in DUIs and DWIs.  In 2015, when the Patriots played in the big game, violations in New England were twice as high as the rest of the country as well as compared to the average Sunday in the region.
How to Avoid Getting Convicted for Drunk Driving on Super Bowl Sunday
New Jersey law enforcement officials are aware of the spike in drinking and driving on Super Bowl Sunday, so police officers across the state will be on high alert.  You can guarantee that police officers across New Jersey will be looking for any sign of intoxication or impairment on the roads this weekend.
The best thing you can do to avoid getting a DUI or DWI this Sunday is to have a plan.  If you are leaving your home to watch the game, consider having a reliable designated driver.  If you end up drinking more than you planned on, consider staying where you are overnight.  Alternatively, use a taxi, Uber, Lyft, or other ride share service to get where you are going for the night or to come home.  If you need to, leave your car where it is overnight and get it in the morning.
If you get arrested for DUI or DWI, one of your first steps should be calling an experienced drunk driving lawyer as soon as possible.  A good attorney can take action to protect your rights.  No matter what day of the year it is, a conviction for drunk driving in New Jersey will result in serious fines, penalties, and consequences that can affect yourself, your job, your family, and  your loved ones.
New Jersey DUI/DWI Attorney Edward M. Janzekovich Can Act to Protect Your Rights
If you or someone you know is arrested, charged or convicted of drunk driving this winter, calling a good lawyer is the most important thing you can do.  An experienced lawyer will work to review your case and defend you in Court. A good lawyer can make all the difference. To speak with an experienced New Jersey DWI/DUI lawyer about your situation, call us at 732-257-1137 or contact us online today. We serve clients throughout the state of New Jersey.