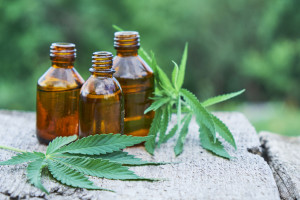 Marijuana is a drug that comes from the cannabis plant – also referred to as weed or pot.  Marijuana is well-known for its psychoactive effects, due to a chemical compound that naturally occurs in the plant called tetrahydrocannabinol or THC.  Here, at the Edward M. Janzekovich law blog, we frequently discuss marijuana and driving, because if a police officer pulls you over and finds that you are impaired as the result of weed or pot, you can lose your license, be required to pay considerable fines, and even go to jail.
Nonetheless, as recreational and medicinal marijuana use increases, there has also been growing interest in another marijuana extract known as cannabidiol or CBD.   Some are calling CBD a "hot new product," and with the increasing popularity of items like CBD oil, there has also been an increase in misinformation and rumors. Many people claim that that you can't get high if you use CBD.  Based on this, others have suggested that you cannot get a DUI or DWI if you have been using CBD.  Today, we at the Edward M. Janzekovich law blog are going to take a more in-depth look at the buzz around CBD.
What is CBD?
There are approximately 483 known compounds in a marijuana plant.  THC is the main psychoactive component, meaning it is the main compound that gets users high.  CBD (which stands for Cannabidiol as stated) includes approximately 65 other compounds.
Since CBD should not include THC, pure CBD is marketed as non-intoxicating – meaning it should not get you high or make you impaired or stoned.  Instead, some people refer to CBD as the medical part of cannabis or the good part of cannabis, because it can provide pain relief and has anti-inflammatory effects. At the same time, it can also bring about a sense of relief or relaxation.
How Is CBD Oil Used?
CBD must be delivered with the help of a carrier oil, like grapeseed, coconut, or hemp oil.  Generally, anything that can incorporate oil can be combined with CBD oil, so it can be taken as drops, soft-gel capsules, tinctures, under-the-tongue sprays, used in cooking, or even absorbed through the skin as a lotion or cream.
Can CBD Get You High?  Can You Get a DUI or DWI?
CBD oil containing products should not get you high – but that does not mean that it won't get you high.  In fact, there is no guarantee that a police officer will not charge you if you are pulled over after using a CBD product.  Here's why:
First, there is no guarantee that your source of CBD is pure. Studies show that CBD works better when it is taken at the same time as THC, so it is possible that any product that provides CBD will include some amount of THC.
Second, even though pure CBD is marketed as non-intoxicating, all resources state that even the purest CBD oil will still contain trace amounts of THC. Consumed in a high enough quantity, CBD is known to cause users to fail a drug test.
Third, since CBD can cause persons to be more relaxed, calm, or comfortable, and since there is some amount of THC in CBD oil, using CBD oil can still make a person appear impaired or intoxicated.
Taken all together, if a police officer pulls you over after you have been using CBD oil, he or she may think you are intoxicated because of your relaxed appearance and possibly slowed reaction times – even if you aren't impaired.  A subsequent blood or urine test might show positive for marijuana use.  If both of these pieces of evidence are presented, a Court may be convinced to convict you of driving while high, even though you weren't intoxicated.
If you or someone you know has been charged as the result of CBD oil use, you will need an experienced marijuana driving defense attorney to represent you.  Only a lawyer familiar with these issues will be able to present the complicated evidence to refute the charges against you.  The reality is that the laws regarding marijuana remain flawed, and an experienced DUI attorney will be best suited to present the best defense possible in your case.
New Jersey Marijuana Driving Defense Lawyer Edward M. Janzekovich Can Help if You've Been Wrongly Accused
There are more and more marijuana prosecutions related to driving while high every day.  If you or someone you know is charged with driving while impaired or intoxicated, you need an attorney whose expertise is in the area of DUI and DWI defense.  A good lawyer can make all the difference.  To speak with an experienced New Jersey DUI lawyer about your situation, call us at 732-257-1137 or contact us online today.  We serve clients in Ocean County, Monmouth County, Mercer County, Middlesex County, Union County and Somerset County.