Understanding Your Constitutional Rights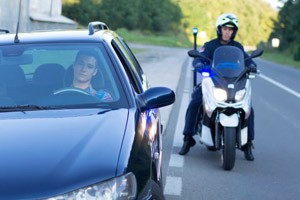 A law enforcement officer has pulled you over while driving, asked a few questions and then requested that you get out of the car, so that a search can be conducted. Can you refuse? Does the officer need a warrant? What are your rights and what should you do?
Your 4th Amendment Rights
Pursuant to the 4th Amendment of the U.S. Constitution, citizens have the right to be free from unreasonable searches or seizures. To be reasonable, a search must be based either on probable cause or on a warrant, which also requires a showing of probable cause. The fact that you were pulled over for speeding, reckless driving or some other moving violation is not, in and of itself, probable cause sufficient to justify a search of your vehicle.
The officer may, however, find probable cause based on the circumstances:
If there is evidence of illegal conduct in plain view—drug paraphernalia, open containers of alcohol, or stolen merchandise, that may be enough to justify a search.
If you engage in other behavior that indicates illegal activity, or that you may be hiding something—If you are slurring your word, your breath smells of alcohol, you keep looking at a certain part of the vehicle or refuse to look the officer in the eye, it may indicate that you are either under the influence or you're hiding something
Furthermore, if the officer actually arrests you (issuing you a traffic citation does not constitute an arrest), the officer may conduct a limited search to obtain evidence to support the arrest or to protect his or her safety.
Contact Attorney Edward M. Janzekovich
To schedule an appointment with an experienced New Jersey DUI defense attorney, contact my office online or call me at 732-257-1137. There is no cost or obligation for your first meeting. Evening and weekend consultations are available by appointment. I accept all major credit cards.