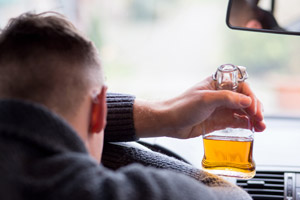 Last week, the New Jersey Appellate Division – the second highest Court in the state – issued an opinion reaffirming the fact that you can get a ticket for DUI or DWI even when you are not actually driving a car, truck or automobile. Although drunk driving is often referred to as a DWI ("driving while intoxicated") or DUI ("Driving Under the Influence"), the law doesn't actually use the word "driving" at all. N.J.S.A. 39:4-50 actually makes it illegal to:
. . . operate[] a motor vehicle while under the influence of intoxicating liquor, narcotic, hallucinogenic or habit-producing drug, or operate[] a motor vehicle with a blood alcohol concentration of 0.08% or more by weight of alcohol in the defendant's blood . . .
In State v. Thompson, No. A-2011-18T4, decided on February 10, 2020, the Appellate division upheld the long-held rule in New Jersey that "operate" does not only mean "drive," and you can get a DUI or DWI in other circumstances, such as if you are found asleep behind the wheel of a parked, non-moving vehicle.
The Case of John Thompson
In State v. Thompson, Mr. Thompson was charged with violations of N.J.S.A. 39:4-50(a), for operating a vehicle while intoxicated, and N.J.S.A. 39:4-50.2, for refusing to submit to a breathalyzer test as required by the law.
These are the important facts according to the opinion:
Mr. Thompson was found asleep at 10:30 p.m. in the parking lot of 7-Eleven in Wanaque, NJ.
He was in the driver's seat.
The car's engine was running.
There was a half-eaten sandwich and prescription bottles on the front passenger seat.
The officers stated that they smelled a strong odor of alcohol.
The officers woke him up and he told them he had been asleep for 30-40 minutes.
Mr. Thompson failed a field sobriety test and was arrested.
Subsequently, he told police officers at the station that he was under the care of a physician and was prescribed Methadone, Hydrocodone, Xanax, and Cymbalta.
He also volunteered that he had two drinks within a three-hour period.
Altogether, the state could use this evidence to show not only that Mr. Thompson had the ability to operate the vehicle while intoxicated, but that he likely drove to the 7-eleven while under the influence of drugs and/or alcohol. Mr. Thompson voluntarily told the police officers many of the important details the state would need to convict him.
The Court noted that there is no question this was sufficient evidence to convict him of drunk operation of a motor vehicle, and he was also convicted of refusal to submit to a breathalyzer test.
Why Operation Does NOT Require Actual Driving
Although a violation of N.J.S.A. 39:4-50 is known by everyone as DWI, DUI, "driving while intoxicated," "driving under the influence," and "drunk driving," the term "driving" is not found in the body of the law. Instead, "operation" has been interpreted by famous past cases including State v. Tischio, State v. Wright, and State v. Sweeney.
A person sleeping in the driver's seat of a vehicle while intoxicated, with the keys in the ignition, and the engine running will likely be found to have been operating the vehicle, even if the vehicle never moves. This is known as "the possibility of motion."
New Jersey Drunk Driving Attorney Edward M. Janzekovich Believes You Deserve a Good Defense
The state is not automatically entitled to a guilty verdict or conviction for DUI/DWI if a person is found asleep in a parked car. There are several important factors that the state will need to prove, and which an experienced attorney can use to have the charges dismissed. If you or someone you know is arrested, charged for, or convicted of DUI or DWI, it is important to contact a good attorney as soon as possible. A good attorney can make all the difference. To speak with an experienced New Jersey DWI/DUI lawyer about your situation, call us at 732-257-1137 or contact us online today. We serve clients throughout the state of New Jersey.