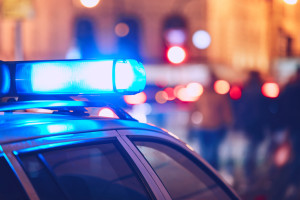 Barry Cofield is an Ex-New York Giants defensive lineman who was drafted in the 4th round of the 2006 NFL Draft.  Cofield went on to play five years with the team before leaving in free agency and spending 4 years with division rivals, the Washington Redskins, from 2011 to 2015.  In 2015, Cofield resigned with the Giants where he finished out his career.  He is well-known for the "taser" dance that he would perform after sacking the opposing quarterback.  Cofield also helped the Giants win a World Championship ring in Super Bowl XLII following the 2007 season.  Although named as a New York team, the Giants actually practice and play in East Rutherford, New Jersey.
On July 6, 2018, Cofield was arrested on charges of driving under the influence of heroin, as well as possession of heroin, assaulting an officer, eluding police, and resisting arrest.  Police body cam footage documented the harrowing arrest.  The 10-year NFL veteran recently pleaded no contest to some of the charges and will not be serving jail time.  Unfortunately, the arrest and sentencing occurred in Florida, where the laws are significantly different from the laws in New Jersey, and Cofield was able to plead to charges carrying a more lenient sentence.
Circumstances of the Arrest at Gunpoint
Barry Cofield's arrest was actually quite an intense situation, as officers held the former NFL player at gunpoint and forced him out of his Cadillac Escalade prior to the arrest.
The entire ordeal began when Cofield fell asleep at the wheel.  Cofield was near Interstate 4 and Lake Mary Boulevard in Lake Mary, Fl. with his foot on the brake when he was discovered.  It is alleged that he remained stopped at the light while the light cycled or changed multiple times before police officers approached the vehicle and attempted to wake him or break his window.  One officer reported that his window would not break.  Subsequently, Cofield woke up and immediately stepped on the gas, refusing to stop at the direction of the officers.  After a pursuit or police chase, Cofield was ultimately stopped after ramming another vehicle and a police cruiser.
Finally, Cofield exited the vehicle and was ordered to the ground.  Accordingly, Cofield was charged with eluding police.  The entire ordeal was captured on body cam.
Officers noted that they smelled alcohol on his breath, but he refused a sobriety test.  Officers then found a substance in his vehicle that was later tested to be heroin.
Falling Asleep at the Wheel
Although Cofield's arrest occurred in Florida, New Jersey laws also generally prohibit a driver from falling asleep at the wheel.  Whether the vehicle is parked and turned off, turned on with just the engine running in park, or stopped at a light with the driver's foot on the brake, if a driver is found asleep in the car, there is a good chance police officers will attempt to arrest the driver for drunk driving.  The law, however, is much more complicated or nuanced.  Therefore, this should not automatically result in a conviction.
For this reason, if you or someone you know is charged with a DUI or DWI and the arrest involves sleeping, you should contact an experienced drunk driving lawyer as soon as possible.  The truth, which a police officer may not tell you, is that the State may have a difficult time proving by clear and convincing evidence that any sobriety, breathalyzer, or drug testing occurred within a reasonable period of time from when the vehicle was operated.  Pursuant to the case of State v. DiFrancisco, the charges may actually need to be dropped.
Barry Cofield's Sentencing
Ultimately, Cofield pled no contest to the charges brought against him.  In New Jersey, there are different rules regarding pleas or plea bargaining than in Florida.  Cofield faced 12 months of probation, 50 hours of community service, random drug testing and a $500 fine for the DUI charges alone, but he was ultimately able to plead guilty only to the DUI charge and the possession charge.  He did not have to serve any jail time.  In New Jersey, it is likely that he would have faced even higher penalties, and he would have served time in jail.
Accordingly, if you are charged in New Jersey, it is even more important that you retain a good lawyer as soon as possible.
New Jersey Drugs and Alcohol Driving Lawyer Can Help if You've Been Charged
No matter the circumstances, if you've been charged with DUI or DWI in New Jersey, the best thing you can do is get a good lawyer as soon as possible.  You know someone who knows the law, knows the system, and knows the best way to help you within the specific circumstances of your case.  An experienced lawyer can make all the difference.  To speak with an experienced New Jersey DWI lawyer about your situation, call us at 732-257-1137 or contact us online today.  We serve clients throughout the state of New Jersey.