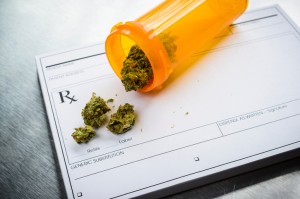 This past week, New Jersey Governor Phil Murphy took a large step in the direction of legitimizing medical marijuana and increasing access across the state. Under previous Governor Chris Christie, New Jersey's technically legal medical marijuana program was significantly handicapped. Chris Christie vocally opposed the program and explicitly proclaimed that he would not work to expand access to medicinal marijuana in any way, and, under his governance, it was difficult, if not impossible, for most individuals to obtain cannabis legally.
Since Governor Phil Murphy took office earlier this year, he made it clear that legalizing marijuana would be one of his top priorities. This week's actions do not make marijuana fully legal, but it does make it easier for individuals to get a prescription for marijuana based on medical need, and then have that prescription filled at dispensaries located across the state.
As previously addressed here on the Edward M. Janzekovich law blog, legal possession of marijuana will not affect the fact that it is, and will continue to be, illegal to drive under the effects of marijuana or THC, the active ingredient in the marijuana plant. New Jersey's DUI/DWI laws still make it illegal to drive while intoxicated or high, whether that intoxication or high is the result of using a legal or illegal substance, including medically prescribed drugs.
Changes to the Medical Marijuana Program
In January, Governor Murphy signed an executive order, calling on the New Jersey Department of Health to review the existing state program. This past week, the Governor announced a list of reforms that would be implemented based on this review.
These changes include:
Adding five new qualifying medical conditions, including two types of chronic pain, migraines, anxiety, and Tourette's syndrome;
Decreasing registration fees for the program (decreased from $200 to $100, or lower for veterans and seniors);
Permitting the six state approved dispensaries to create additional locations to better serve the increased number of program participants;
Increasing the monthly permissible dosage from 2 ounces to 4 ounces;
Permitting hospice patients to have an unlimited supply; and
Eliminating the requirement that doctors put their names on a registry in order to prescribe medical marijuana.
These measures only account for one part of Governor Murphy's whole plan for the future of cannabis in New Jersey. At the present, 18,574 patients, 536 physicians, and 869 caregivers are involved in the program, but the just-announced changes should increase access for thousands more. The Coalition for Medical Marijuana New Jersey anticipates that the end goal for the program would be to meet the demands of about 1 million patients.
Marijuana Impairment and Driving While Intoxicated
Although many of these changes will help pave the way for New Jersey residents to legally qualify for and obtain marijuana, this will not affect laws affecting driving while high – under the influence of THC or cannabis.
First, New Jersey statute, N.J.S.A. 39:4-49.1, states that you cannot drive a motor vehicle while in possession of any prescription medications unless you have obtained the substance or drug directly from an approved medical provider or with a valid prescription. Moreover, even if you are allowed to have it, New Jersey law does not allow any person to drive while impaired, regardless of whether or not he or she is intoxicated because of a legally prescribed or obtained medication. This means that it will not be a defense if you are part of the medical marijuana program if the state can prove that using cannabis has affected your ability to drive substantively.
Finally, it is important to note that New Jersey's medical marijuana law does not allow persons with an out-of-state medical marijuana license to possess marijuana in the state without also having a New Jersey medical marijuana license.
Accordingly, it is important to remember that driving and using marijuana is still illegal and driving while intoxicated as the result of any substance in the state will be treated seriously and likely prosecuted, in the same way the government would treat you if you were arrested for driving drunk.
Edward M. Janzekovich Can Defend You if You Are Charged with Driving While High
If you or someone you know is charged for driving while intoxicated, drunk driving, or driving high, the possible penalties will be serious. Fighting those charges will not be easy. Finding a good attorney will be really important and can make all the difference. To speak with an experienced New Jersey DWI/DUI lawyer about your situation, call us at 732-257-1137 or contact us online today. We serve clients throughout the state of New Jersey.