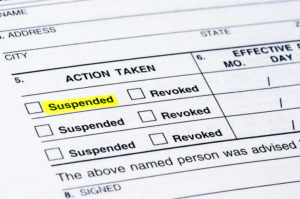 As you probably know, if you are convicted of drunk driving in this state, one of the harshest penalties you could face is losing your license. First time offenders can lose their license for 3 months or more, while repeat offenders can lose their license for up to 10 years! During that time, you cannot drive yourself to work, you cannot drive to the store to get groceries, you cannot even drive to provide for your family members.
Here on the Edward M. Janzekovich law blog, we have previously discussed that there are NO EXCEPTIONS in the Garden State for drivers who have had their license suspended or revoked – no matter what the circumstances. A person who has lost his or her license in New Jersey CANNOT legally drive for any reason, and getting caught driving with a suspended license can make things even worse! Recent legislation being considered may offer a small exception to this rule, but it is unlikely to apply in all circumstances.
Hardship Licenses in New Jersey
First, as noted above, New Jersey does not currently offer a suspended license exception. In some other states, a special restricted license exists for persons who have had their driving privileges revoked – usually referred to as a hardship license. A hardship license can allow drivers to get to work and back, or to go to medical appointments, or to care for children.
In New Jersey, a person can lose his or her license for many reasons, including amassing too many parking tickets. The minimum license suspension period is 3 months for anyone convicted of driving under the influence of drugs or alcohol, depending on a drivers' blood alcohol content at the time of the arrest.
Since New Jersey does not have a hardship license exception, someone who loses his or her license may need to depend on others in order to continue to work or provide for his or her family. This may require having a family or friend do the driving, carpooling with coworkers, or using expensive services like Uber or Lyft.
Even when a driver's period of license suspension is over, the person cannot drive until he or she takes all the necessary steps to have the license restored.
Proposed Hardship License Legislation
Last year, Ocean County Assemblyman Ron Dancer introduced legislation seeking to create a special license option for drivers with a suspended license. This occurred based on a recommendation from the New Jersey Supreme Court Committee Report on Municipal Operations, Fines, and Fees last summer.
Since introduction, this issue has been discussed in the media and has faced some opposition. Similar legislation has been proposed before, but was not successful at the time. It is unclear if this proposal stands a better chance of success now.
As proposed, the bill would not create an exception for all persons. Only persons with non-point suspensions would be considered for a hardship license – such as persons who lost their license for unpaid parking tickets. The special license holders would be permitted to drive between home and work or school between specific hours. Anyone who received a restricted license as the result of DUI or DWI would not be eligible.
For that reason, if you or someone you know is charged with drunk driving, it is best to first consult with an experienced DUI lawyer as soon as possible to fight the charges against you. If you lose your license due to a drunk driving conviction, there is no exception for your suspension penalty in New Jersey.
New Jersey Drunk Driving Attorney Edward M. Janzekovich Understands What is At Stake if You are Convicted
If you are found guilty of drunk driving in the Garden State, the penalties can affect your ability to work and provide for your family or loved ones. If you or someone you know is charged with DUI or DWI, it is important to speak to an experienced attorney right away. A good lawyer can make all the difference. To speak with an experienced New Jersey DWI lawyer about your situation, call us at 732-257-1137 or contact us online today. We serve clients throughout the state of New Jersey.